Be Our Guest to TalkSex ™

TalkSex ™ with Gabriela Rosa is the podcast where reproductive health, science, education, self-discovery, love, and lust meet.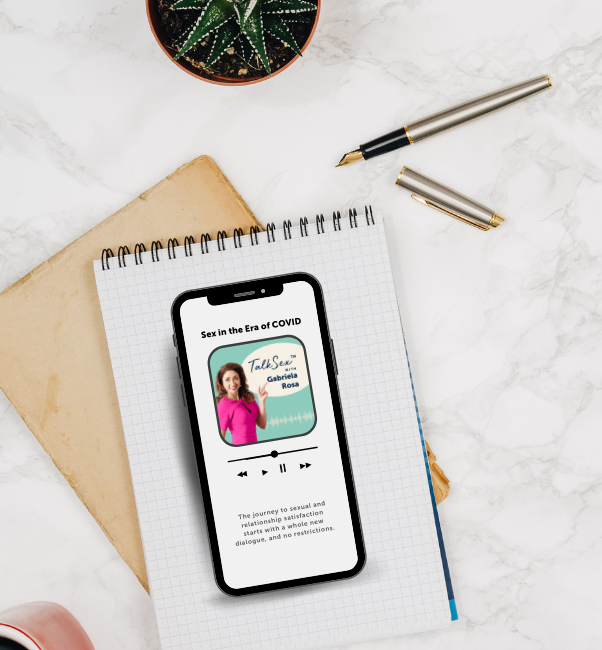 Hosted by Harvard University awarded scholar, author, and researcher, Gabriela Rosa its purpose is to explore the nuances of sexual desire, pleasure, and satisfaction in the context of partnered relationships.
Our audience wants new and unrestricted conversations that break through the taboos, scripts, and misinformation that for so long have dominated sexuality.
We believe the key to our fruitful conversations revolves around encouraging healthy dialogue while providing valuable content our audience wants to consume. Within each of our episodes, we strive for one purpose: We want our listeners to feel, learn and be able to do something practical as a result of what they hear that will in some way benefit their lives.
Any conversation, topic, or angle that serves our audience is welcome. We especially LOVE helping people shift perspectives in ways that benefit their lives, and we also welcome fun, sassy, and frivolous conversations.
To share your expertise, and reach hundreds of thousands of people through our media platforms please complete the guest form here and we'll be in touch soon.
TalkSex ™ with Gabriela Rosa podcast is available on Spotify, iTunes, Google Podcasts, Apple Podcasts, and on all other leading podcast platforms.



About Gabriela Rosa
Gabriela Rosa is a world-renowned fertility specialist, sexuality researcher, and health educator. She is also the founder and director of The Rosa Institute, an organization dedicated to improving clinical results and advancing scientific knowledge in reproductive medicine to help couples create healthy babies, despite previous challenges.
Gabriela is a Harvard University's T.H. Chan School of Public Health awarded scholar where she pursued her Master's in Public Health (Clinical Effectiveness) degree (complete in late 2021). Currently applying to the Doctor of Public Health program at Harvard, Gabriela already holds a Master of Science in Medicine (Reproductive Health and Human Genetics), a Bachelor of Health Science, and is trained in numerous health disciplines, including naturopathy, nutrition, and botanical herbal medicine.
For updates on her latest initiatives, visit Natural Fertility Breakthrough or follow her on Instagram or TikTok.

The Rosa Institute


AUS 1300 858 490
INT +61 2 8074 3939
USA +1 (646) 461-4061
UK +44 20 3871 8494