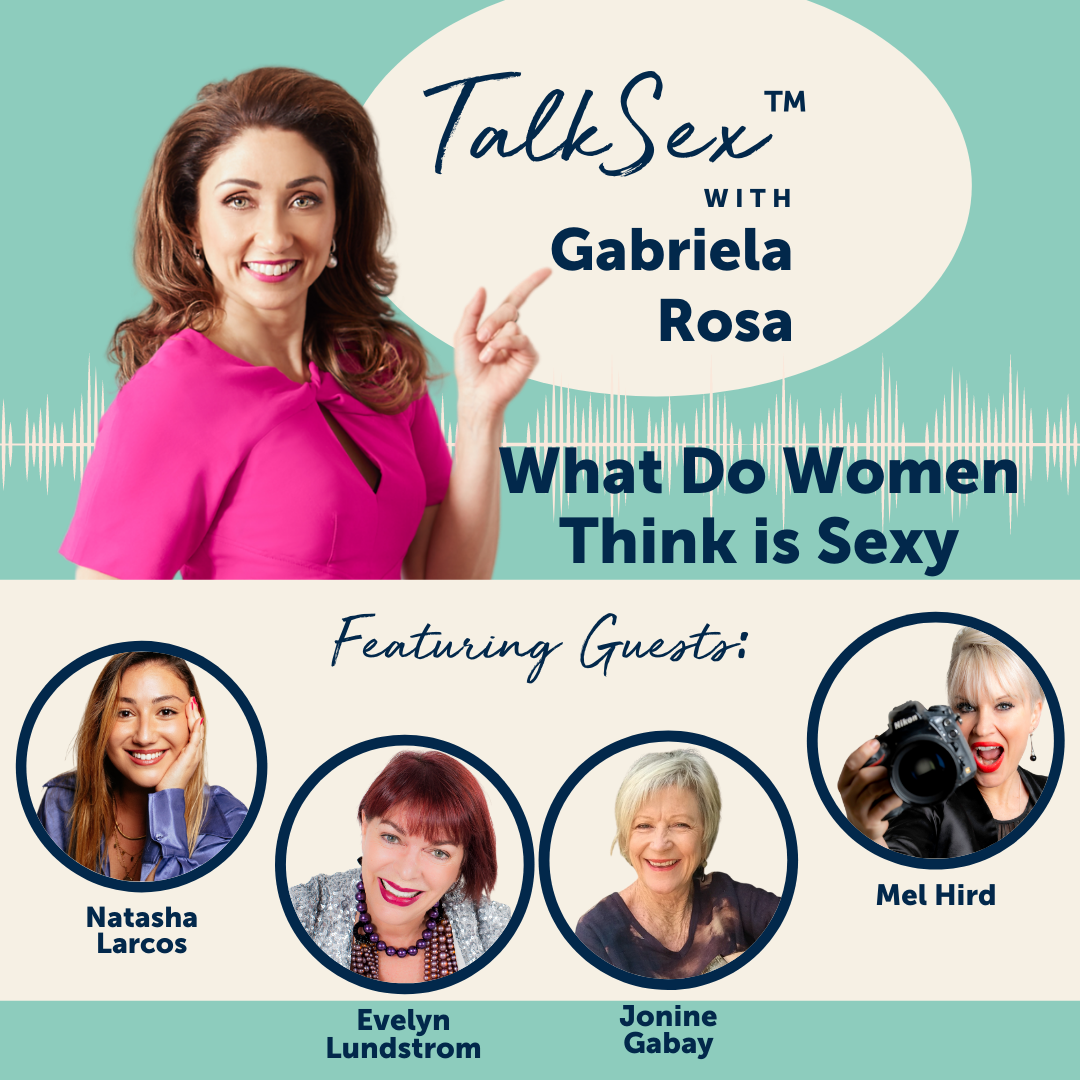 Today's guests are four fantastic women ranging from the age of 24 to 74 that join me in talking about what women think is sexy. Natasha Larcos, Jonine Lee Gabay, Melinda Hird, and Evelyn Lundstrom all have different takes on what is sexy. Some of the factors are internal while others are external. One woman likes loose pants on a man. One woman really likes confidence. Each of us agrees that demanding respect for yourself is the first step to being appreciated in your relationships.
In this episode, we discuss how relationship red flags change as we age and how to begin to pinpoint what is sexy to you by pinpointing first what is not sexy to you. We also talk about the death of the chase, treating sexy as a mindset, and the art of flirtation.
Natasha Larcos is the co-founder and creative director of the social media agency Universal Creatives. She volunteers at Ocean Uprise, a non-profit that empowers young people to help combat climate change through ocean conservation. She also co-hosts Officially Unofficial, a comedic dating podcast.
Jonine Lee Gabay is a family/systemic constellations and somatic breathwork facilitator. Her vision is to create greater awareness of the link between unresolved trauma and grief to health and wellbeing.
Melinda Hird is a personal brand photographer and video producer. She has covered event photography and video, author book trailers, brand photography, and video showreels for businesses and speakers. She loves engaging in meaningful conversations that can open up people's minds.
Evelyn Lundstrom works as an executive presence and personal brand strategist, image coach, and corporate trainer. In her business, she helps in training those who wish to enter the personal brand image industry. She believes that feeling cherished and loved are key parts of feeling confident and sexy.
Listen in to learn what is utterly unsexy, which one of the guests wants a guy that smells like a mountain stream, and how to know when a relationship has run its course.
For our listeners, Evelyn Lundstrom is offering a complimentary 15-minute chat about any style issue and, for the month of January, she is offering 20% off of all personal consulting services.

"If you can't communicate with your partner then the sexiness is all gone." - Melinda Hird
Show Notes:
What is sexy to women
Aesthetics that women find sexy
Owning your femininity
How women's preferences change with age
The death of the chase
Ages in stages
Sexy as a mindset
Encouraging young girls to own their confidence
Refocusing external validation
Getting clear on potential partners
Knowing when a relationship has run its course
Outsourcing relationship advice
Redefining what is sexy
The art of flirtation
"Unfulfilled longings can wreak havoc on a relationship unless we find a space for them." - Evelyn Lundstrom
Links Mentioned:
Connect with Natasha Larcos:
LinkedIn | Instagram | TikTok | Officially Unofficial Podcast
Connect with Jonine Lee Gabay:
Facebook | LinkedIn | Jonine Lee Gabay | Constellation Intensive
Connect with Melinda Hird:
Facebook | Instagram | LinkedIn | TikTok | Melinda Hird Photography
Connect with Evelyn Lundstrom:
Facebook | Instagram | LinkedIn | Twitter | YouTube
The discussion continues over on social media follow TalkSex
™

with Gabriela Rosa:

"Women should just forget about the chase." Evelyn Lundstrom